On Tuesday, March 6th, 2018, Digilant hosted a discussion and dinner at SEI D.C. in Penn Quarter.  I joined local digital media agencies and brands to hear their colleagues discuss their approach to delivering new and innovative programmatic strategies.
As programmatic technology becomes a commodity that everyone is using and has access to, it's even more important to have integrated teams and strategies to get ahead of the competition. Today's CMO will be delivering a single media strategy that includes search, social and programmatic. They will be partnering with agencies and businesses that can help them strategize, implement and optimize their digital media across audiences, formats, screens and inventory to most effectively deliver on business goals and objectives.
During this intimate dinner conversation, Digilant Executive Chairman, Alan Osetek, moderated a panel with Professor of Digital Strategy at Georgetown University and former SVP at Edelman, David Almacy, SVP of Media Strategy and Analytics at Discovery Communications, Seth Goren, VP of Marketing for Tegna, Meredith Conte, and Senior Digital Marketing Solutions Manager for Resonate, Lisa Villano.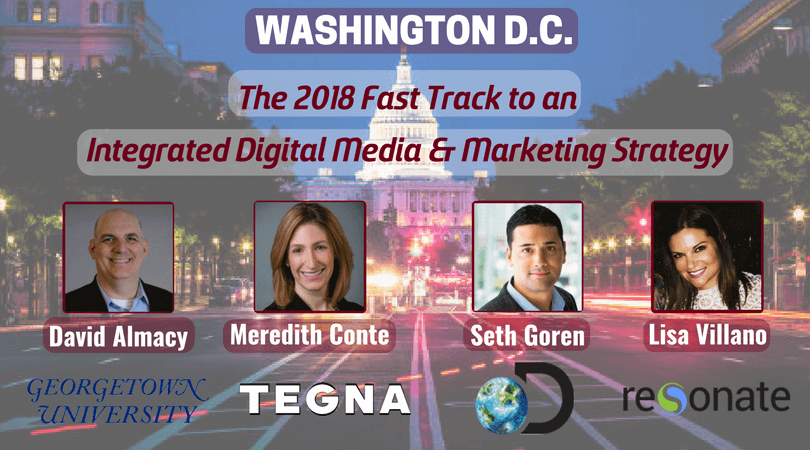 Alan kicked off the evening by reminding everyone that Digital Media has evolved enormously over the last 5-10 years, in the sense that when agencies used to present their media plans there used to be one slide at the end of a presentation about trying some digital.  Now for many agencies, not only do they lead with digital, but it could be the whole pitch.
So his first question to the panel was, what words would they use to describe what programmatic means to them?
Seth from Discovery kicked off by saying that programmatic to him is real-time buying, addressable and algorithmic, that their strategy is audience based. For David at Georgetown University, programmatic is an opportunity to use and collect data, because if your data is not good you might miss finding the right people as well as finding new audiences that you might want to communicated with. For Lisa at Resonate, programmatic is about being able to access all types of inventory through one platform and then being able to get audience insights that they can use to make decisions from.
What are the expectations that your brand/today's brands have of their programmatic partners?
Companies are experiencing growing pains when it comes to digital, according to Lisa, which means that you need to have specialists for all the new topics like programmatic TV, OTT and all the new ad formats, along with a subject matter expert to keep them informed.  Meredith responded that for her, in-house education can't be underestimated, that they have in-house teams that suit all of their clients needs and they constantly need to be kept up to speed on what's going on in the market. For Seth, programmatic expertise has become an important part of the strategy and it's making less and less sense to ship it outside of their company.
How much of your buying strategy or media is based on walled garden platforms? What are your general thoughts on walled gardens? 
Seth jumped in to say that it's not that walled gardens are frustrating, but that you can't live without them. Meredith said that for her it depends on your goal; sometimes it may be 100% in Facebook, but mostly it's about who you are going after. David said that there are tried and true approaches out there, so with video and images Facebook might work better. Platforms like Snapchat are evolving, for example teenagers are using Snapchat to mobilize together to organize a protest against guns, the fact that protests were generated on this channel and it's becoming a language and a tool for a certain age group, the originators of Snapchat never thought their platform would be used this way.  The lesson is to be open. The platforms will evolve and you have to be open to which are the most effective tools for your brand or campaign depending on what you want to achieve. Lisa finished by saying that Resonate can now use their data on Facebook, successfully pulling data out of the walled garden to try and reach the right people, though they can't be sure that they will convert but have to manage to a KPI to make it work. It's an education for all their clients.
What are you using to bring your digital strategy to the next level? 
Meredith started by saying that following the customer journey is really important to them, how people are engaging and when during the day, so that they can engage people when it's relevant to them, it's on their roadmap to solve. Seth's goal is to build modular creative, hundreds of creative! For him the next level is on the execution side, "my first matzo ball out there, traditional metrics are terrible predictors, likes, comments, etc. has nothing to do whether they like the show," it comes down to tracking attribution, and weighing each touch for attribution. For Lisa geolocation tracking is really important, knowing what people are doing and where, so that we know when to reach them. Lastly for David, he wants to measure what tools are most effective and when the optimal time to use them is.
What company organization changes are moving the company forward?
Meredith answered first by saying, audience based elements. Everyone can buy programmatic media now and old economies of scale go out the window.  You also have to hire the right people who are willing to take risks. It's a time of massive disruption, people have to want to embrace the change.  Seth said, start somewhere, solve one problem at a time, then scale slowly. For David if there isn't someone internally to educate people about these trends, get that buy-in, so that they can educated their bosses then it's going to fail.  Maybe there are new tools available that might work better. Test, learn, iterate, repeat… Identify best practices locally and then scale if they work.
Has anything changed on the way you hire?
EVERYTHING! said Meredith. Communication skills, you have to have them… if you are great at data and can't explain it, that's not going to work for us.  Data and knowledge of digital is critical. Creativity and resilience are also important, if you can't adapt and grow you won't make it.  According to Seth the whole game has changed, it's all about data scientists not just digital marketers. Lisa commented that they are constantly changing process and procedure, and you have to be able to keep up with it. For David, you need to be naturally curious or naturally creative, can't teach that.
For the last question Alan asked the panelists to talk about a problem they are trying to solve for their company.
For Lisa it's inventory scarcity for the newer formats. If customers want to spend a million dollars on OTT and they can't deliver that programmatically it's a challenge.  They are packaging it into a bigger offering, the idea of having access to different omni-channel inventory through one buying platform is great, but not completely achievable yet.  David's personal challenge is to empower women in Mexico to use technology so that they can use the same channels that men are using to get elected into government offices. For Seth 2018 is the year of automation, his goal is to eliminate email and powerpoint communication in his company in exchange for dashboards. And Meredith wants to revisit audience segmentation for local broadcasts.
It was a wonderful evening of food, drinks and programmatic conversation.  We are looking forward to the next event in Atlanta, stay tuned for details.